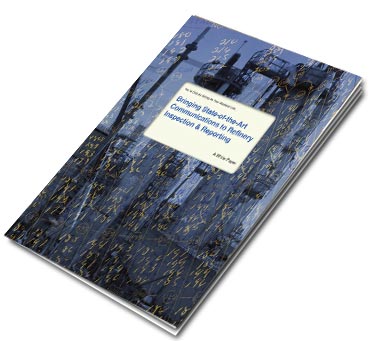 RogersSullivan Research (RSR) announced this week it has published a new white paper on software and hardware breakthroughs in the oil and gas industry.
Writing for software developer Mobile Epiphany (ME), RSR released the 12-page paper, and accompanying information site after months of field testing and on-site trials by refinery inspection experts PD Logistics. Led by PDL President, James Scott, the field testers worked with ME to develop the software database structure and then ran case studies with refinery inspection teams to gauge the effectiveness of the software run on computer hardware especially chosen for the study.
Turns out, the recording and reporting of oil & gas refinery inspection data hasn't changed a great deal in the last century. Inspectors still may record readings on a clipboard and then submit that data for entry by a separate typist. The resulting latency between inspection and actionable reporting may be as long as 90 days, according to Scott.
Mobile Epiphany, according to the white paper Bringing State-of-the-Art Communications to Refinery Inspection & Reporting, partnered with Panasonic and Intel to create a real-time data recording/reporting solution featuring Panasonic's battle-tested H2 Tablet running an Intel i5 core processor. The resulting performance in the often gritty refinery environs provided inspection data to the mechanical integrity staffs as it was being recorded and saved hours of administrative labor and weeks of downtime.
Also interesting to the team was the lack of "pushback" from inspectors in their reaction to the new technology. According to Scott, inspectors embraced the intuitive combination of the H2 Toughpad and ME system interface, and training took less than one hour.
For more information on the Mobile Epiphany system, go to: http://www.mobileepiphany.com/onepoint or telephone James Scott @ 1 (866) 992-2543.
RogersSullivan Research is an independent entity under the RogersSullivan Media group, and may be reached at RogersSullivanResearch.com
Usually there is no need to visit chemist's shop every time you want to purchase drugs. With the Internet flooded with a lot of online drugstores selling several remedies, purchasing medicaments from th WEB is no longer a dream for most of us. Many drugs are used to treat impotence. Viagra is a remedy prescribed to treat many ailments. What do you have to know about "how long does it take for cialis 20mg to work"? What professionals talk about "cialis 20mg price"? Matters, like "20mg cialis", refer to numerous types of medical problems. Sexual disorders commonly signal other health problems: sexual pain or erectile dysfunction may hide a heavy health problem such as diabetes. Sure thing you must take all side effects in consideration before buying any remedy. Follow the all directions on your prescription label.